Fight the Effects & Signs of Premature Ageing With Our Clinically Proven Bioactive Collagen Peptides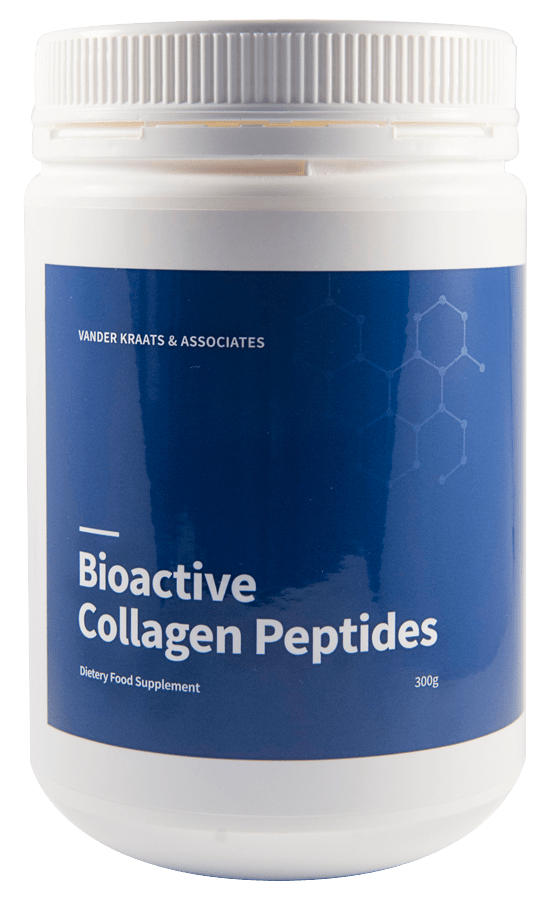 Do You Suffer From:
Wrinkles, fine lines, premature ageing or saggy skin?
Brittle nails & thinning hair?
Stiff, painful joints & aching muscles?
Loss of muscle tone & weak muscles?
Would You Love:
Healthy, glowing, vibrant skin?
Stronger nails & thicker glossy hair?
Increased flexibility & mobility?
Reduced inflammation & pain?
Scientific Studies Show Bioactive Collagen Peptides:
Promotes healthy skin and hair
Improve nail growth and reduces the symptoms of brittle nails
Reduces cellulite
Improves joint health
Improves mobility
Reduces joint pain
Improves elasticity of tendons and ligaments
Promotes growth of cartilage tissue
Improves osteoarthritis
Reduces exercise induced stiffness
Can improve bowel function
Can help arthritic pets too!
Collagen Peptides are a valuable and high concentration source of essential and non-essential amino acids, which are often low in many diets. The stimulating effects of these Collagen Peptides on cell growth in skin, joints, tendons, ligaments and bones has been demonstrated in numerous scientific studies and as a result, is set to see the global collagen market for regenerative medicine projected to grow to $1 billion by 2022.
Collagen is a major component of the human body, it's the body's protein.
About 30% of our total body protein is a Collagen and it helps hold everything together like the "mortar between the bricks of a house".
Medical studies tell us that arthritis instantaneously causes collagen degradation in our bodies.
Collagen is crucial for mobile joints, stable bones, healthy muscles and strong tendons and ligaments. And optimal collagen levels in the body are essential for smooth skin, strong finger nails and glossy hair.
By the time we turn 40, our collagen production is down 25% and by age 60, it's down by 50%, so to maintain healthy collagen levels it's essentially that we take a high potency collagen supplement to keep our bodies feeling and looking younger.
Looking good on the outside is great, but feeling amazing on the inside is even better.
The best collagen I have used. Noticed improved skin, sleep, and also lost cravings for junk food (resulted in a near immediate weight loss). I have tried other brands and they just didn't work like this one does.
The collagen is extremely effective for me. It basically has me feeling and looking younger and that is not an exaggeration.
The amazing Collagen worked wonders for my knees. I couldn't squat half way before using this product I can now squat to the ground and back up without assistance I can now also walk up and down a flight of stairs without having to hold on to the railing – do yourself a favour it truly is amazing stuff!!!
I've been using Bioactive Collagen Peptides for just over two months now. Within the first 2 weeks, the morning ache in my fingers stopped and after four weeks I had family members (who didnt know that I was taking the collagen) comment how much thicker my hair felt and looked. I love it!
I have been using the Collagen Peptides for about 6 weeks now and I am honestly astonished by the difference it has made to my skin. I have had dry skin my whole life and have tried everything I could think of to relieve it – nothing made any difference at all until I tried the Collagen Peptides.
I'm a continuous user of the Collagen and other products and instantly feel the results. Do yourself a favour and see what all the hype is about!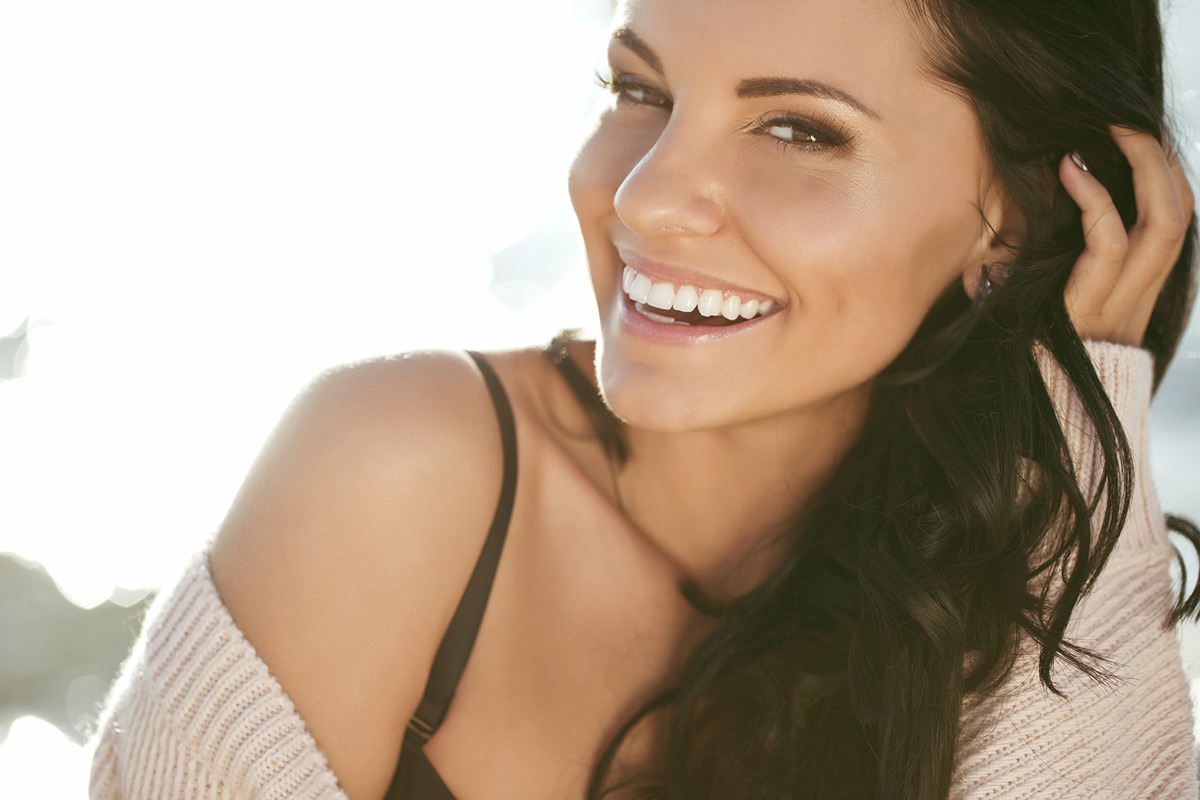 Where Are Our Bioactive Collagen Peptides Sourced?
Our Collagen Peptides are sourced from Europe and obtained from nature. They are produced from natural raw materials of animal origin, mostly bovine. These are inspected and approved for human consumption by the veterinary authorities. The actual raw material for the manufacture of collagen peptides is collagen protein.
Buy Bioactive Collagen Peptides Now and Save!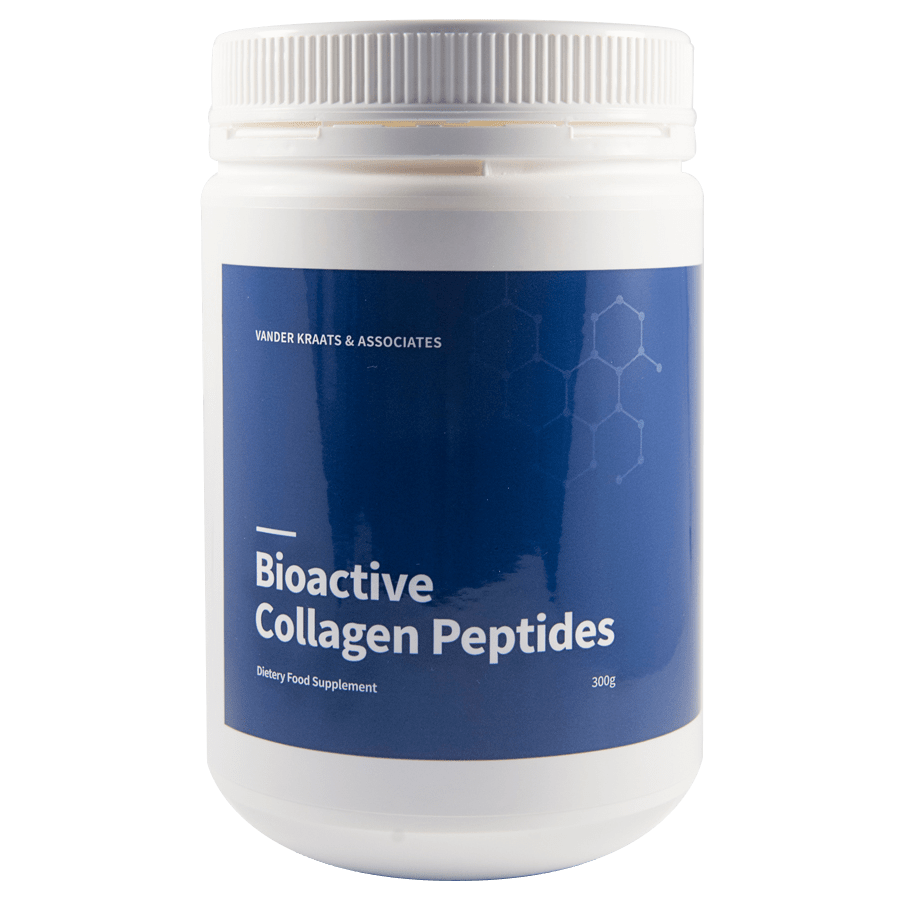 300g Bioactive Collagen Peptides
Product Description
300g Bioactive Collagen Peptides
Ingredients:
100% bioactive collagen peptides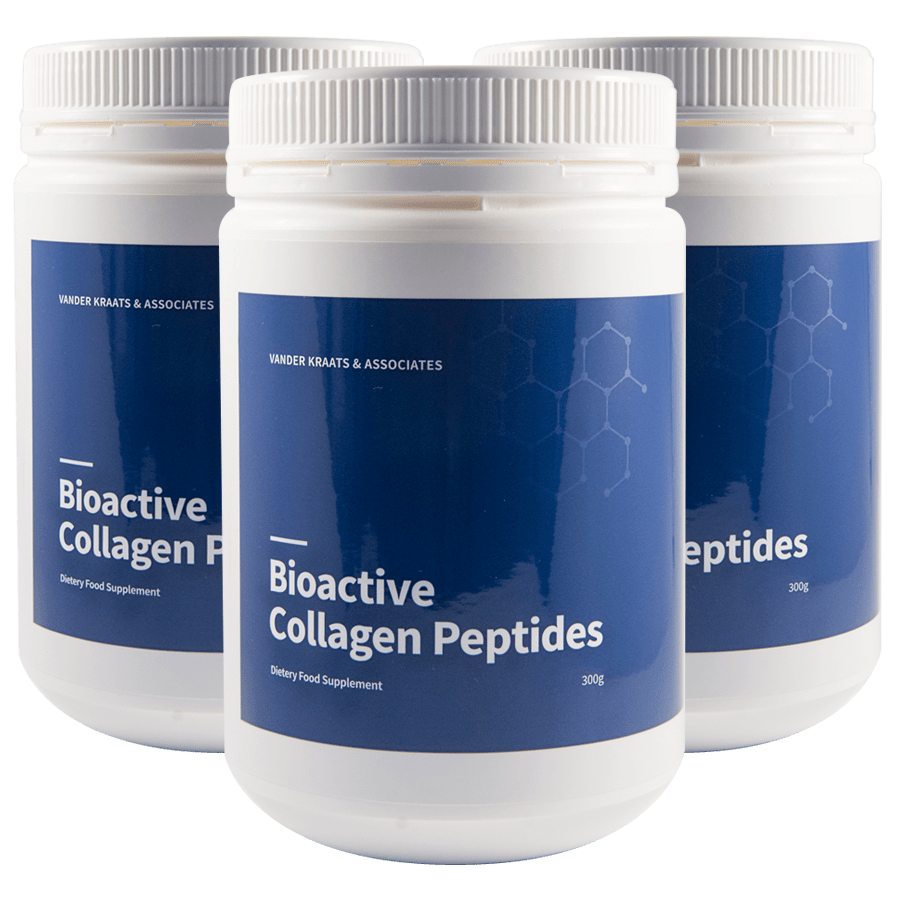 Buy 2, Get 1 FREE! Save 33%
Product Description
3 x 300g Bioactive Collagen Peptides
Ingredients:
100% bioactive collagen peptides
Disclaimer: Important – The information contained in this website is intended for educational purposes only. It is not provided to diagnose, prescribe or treat any disease, illness or injury. The author, publisher, printer and distributor accept no responsibility for such use. Those individuals suffering any disease or persistent symptoms should consult with their physician. It is hoped this this information will empower you to make more informed decisions regarding your health and well-being. For information on our Privacy Policy click here
Vander Kraats & Associates is in no way affiliated or associated with Facebook®